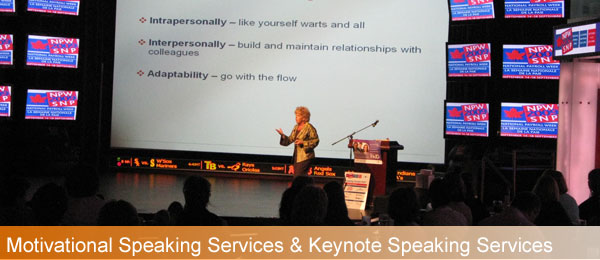 Colleen's presentation style has been praised as: "captivating", "vibrant", "exuberant" and "dynamic". She's a "great mentor/motivator" and has a "great sense of humour".

Services – Keynotes Speaking
All topics are available as a webinar
Take This Job and Love It
Too many people are unhappy in their jobs and in their lives, often because they don't know how to look for the passion that lies within. Too often we rely on external sources to "make our day." This session will kick start a dying engine or continue to keep the light glowing by re-invigorating the Energizer Bunny Rabbit in you.
Examine ways to rejuvenate your passion for your job and life in general. You will:
Learn positive verbiage and behaviour, to elevate your mood and influencing power
Acknowledge your professional wonderment
Understand why you do the work you do, what motivates you to do what you domg
Learn to go with the flow
Build and maintain vital, viable relationships
---
Engage and Elevate Learner Interaction
Keeping an audience engaged and learning during a technical or non soft skill training session is often challenging, frustrating and tiring to the presenter. To help you increase audience interaction and to make presenting more enjoyable for you this keynote will touch on:
Bringing an audience on side – pre prep
How to engage an audience with power openings and power closings
Visuals, props and interactive exercises and how they stimulate learning and retention
Using your voice, tone and body language
The use of empowering versus limiting belief phrases
High energy words elevate mood, attitude and engagement
---
Generational Differences in the Workplace
For the first time in the history of the industralized world, there are 4 generations working side by side in the workplace. Each generation walks to its own beat and there are noticeable differences between each as it pertains to work ethics, values, expectations and lifestyle preferences. Knowing and understanding the workplace and lifestyle preferences of the Traditionalists, Baby Boomers, Gen Xers and Gen Yers can facilitate more effective interviewing and hiring practices. Knowing and accommodating their preferences can also lead to higher employee retention and productivity.
---
Networking How to Build Relationships That Count
75-80% of all opportunities that come our way in life are found through networking. Find out the truth about networking and how to make networking a daily part of your job – it's not just who you know, but who knows you! Recognize and overcome barriers and fears that prevent you from networking effectively. Identify specific tactics that will raise the company's visibility thereby increasing sales – if you aren't appearing, you are disappearing! Learn how to network with style and break the ice at business and social functions.
---
Visibility Networking
If You Aren't Appearing You're Disappearing
This session speaks to the importance of internal networking and increasing your presence or visibility in your workplace to improve your chance for career longevity, build better relationships with colleagues and increase your happiness ratio. Identify strategies to increase your visibility and learn techniques that will improve your internal networking capability.
---
Open a New Window Every Day: The Importance of Continuous Learning
Learning really just begins when we leave the classroom and take up the world as our stage. From Malcolm Gladwell's work in 'Outliers' to understanding the basics of how we learn visually, auditorily and kinesthetically, this humourous presentation will have you expanding your resources and honing your interpersonal relationships with ease. Find out how 'juggling scarves' relates to the 20 reasons for life long learning.
---
Every Office Needs a Rubber Chicken
"Laughter is therapeutic, humour is individualistic."
If you could bring a smile to everyone's face in your company wouldn't you want to? If ever there was a time when employees needed a bit of levity in their work lives it is now. Training dollars have been cut, expense accounts are being restrained, yet your staff are still nervous, possibly stressed and may need some attention.
I have designed a Humour in the Workplace presentation that can be offered as a Keynote or Lunch and Learn session. Offering this in your workplace can provide a ways and means to lighten up the atmosphere of any office, improve attitudes, and ergo, increase the productivity and happiness quotient of every employee!
Presentation Outline:
We don't always have a lot of choices in life but one thing that's for sure, we do have the choice to look at the lighter side of life, or not. You'll learn what humour is all about, tips on sharing humour and the use of humour at work…like how to best utilize a rubber chicken in your department or company. You'll learn about Laughter Yoga, practice laughing and see how part of work life balance is consciously bringing positive elements of life into your reality.
---
Are You Having an Emotionally Intelligent Life? – EQ-i2.0
You get hired for your IQ, you get promoted for your EQ !
Emotional Intelligence addresses the emotional, personal, social and survival dimensions of intelligence. These factors increase our ability to be more successful in dealing with environmental surroundings.
They can help to predict success. EQ is concerned with understanding oneself and others, relating to people, and to adapting to and coping with our immediate surroundings.
WHAT EQ-I CAN DO FOR YOUR WORKPLACE
EQ-i is the tool that measures emotional intelligence. There are five developmental areas that EQ-i addresses in the workplace:
Career Development
Organizational Change
Program Development
Team Development
Individual Development
EQ-i BENEFITS
Increase organizational efficiency Improve employees' self-understanding and personal development Improve basic personal and interpersonal skills Increase confidence, become more goal oriented = increased revenue
Unlike IQ which is relatively stable throughout one's life, EQ can be improved upon and honed regularly throughout one's growth.
Colleen is a certified EQ-i facilitator and welcomes the opportunity to work with you and/or your company on identifying your low, average and high EI components and ways to improve them.
Take your next step to understanding and honing: Intrapersonal, Interpersonal, Adaptability, Stress Management, and General Mood Skills. Call Colleen Clarke and Associates NOW 416-686-3079 or send an e-mail to: csc@colleenclarke.com
---
Other Topics Include:
Enhancing Performance in Today's Workplace
Netiquette – Networking Etiquette
Networking Ice breaker for conferences
Networking: It's Telling Not Selling
Work in Progress: Work Search and Job Retention
Topping Up Your Communication