COLLEEN CLARKE is a highly recognized career specialist, corporate trainer, and public speaker in the areas of career management and transition, communication and networking. For the past 20+ years she has inspired and counselled thousands of people in groups and individually to maximize their career and workplace potential. Colleen graduated from the first class of coaching students from the Adler Institute as a certified Workplace Coach. >> more…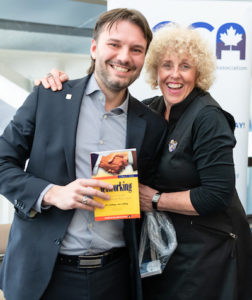 She is the author of Networking How to Build Relationships That Count and How to Get a Job and Keep It. Whether speaking or writing, Colleen insightfully and humorously shares with her audience the practical insights and "hands-on" approaches and techniques she has developed as a motivational leader.
Often quoted in magazine and news articles and columns, Colleen has numerous radio and television interviews to her credit as well. She contributes monthly to The Globe and Mail's Nine to Five career/workplace column and wrote regularly for Workopolis.com. She is the Networking Guru on BizTV Canada. Colleen was a career advisor on Oprah's OWNetwork program "Million Dollar Neighbourhood" in 2013.
Whether coaching, counselling or training, Colleen exudes the passion and knowledge she has for her subject matter with humour and inspiration.
Off hours you will find Colleen on the Board of Directors for the Ontario Association of Career Management, a committee member for Division 55's Community Police Liaison Committee and an active member of the Toronto Beaches Lion's club. She is also a volunteer with the CNIB's home visit program.
Colleen is a graduate of the University of Alberta, Edmonton, in Recreation Administration.
Colleen Clarke
416-686-3079
csc@colleenclarke.com